Sidebar
Protective Comfortable 5-Layer Disposable Face Mask Stars Black (50PCS)
QUESTIONS & ANSWERS
Have a Question?
Be the first to ask a question about this.
Ask a Question
TIRED OF INHALING POLLUTED AIR, SMOKE, AND DUST WHENEVER YOU HEAD OUTDOORS?
It's always good to step outside and get some fresh air. Sadly, the air around you can be harboring all types of contaminants, such as pet hair, pollen, smoke, or dust. Once you breathe in these irritants, you can expect a full day of wheezing and sneezing to hit you, especially if you have an especially sensitive sinus. Luckily, simply wearing a reliable KN95 face mask can protect your airways from airborne pollutants whenever you spend time outdoors.

The Disposable KN95 Face Mask by U-Drive will provide you with efficient protection against pollutants outdoors!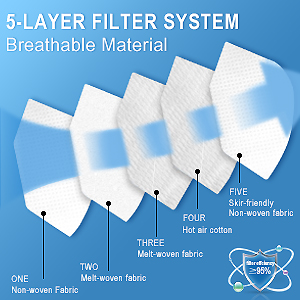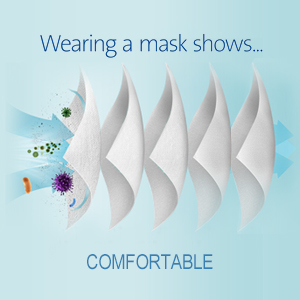 5 LAYERS OF PROTECTION
Compared to single-layer cloth face covers, this KN95 face mask can help protect your airways from a wider range of contaminants or airborne pollutants.
This KN95 face protector shows off 5 filter layers:
-2 layers of non-woven fabric
-2 layers of melt-blown fabric
-1 layer of hot air cotton
Together, these filters help block out 95% of particles up to 0.3 microns in size. They also filter out PM2.5 particles, dust, vehicle exhaust, pollen, dander, pet hair, smoke, odors, and fumes.
COMFORTABLE TO WEAR THE WHOLE DAY
The last thing you need is a face mask that gives you breathing difficulties or makes your face feel itchy all day. This KN95 single-use face cover is fitted with soft lining and stretchy cotton ear bands that won't irritate your skin. Even if you wear the mask, it still allows you to breathe freely, thanks to its low inhalation resistance. However, we don't recommend using this face mask in hypoxic environments.
USE IT FOR EVERYDAY TASKS
The air around you may appear clean, clear, and pure. Unfortunately, typical airborne pollutants are hardly visible to the naked eye. Keep your breathing passageways properly protected by wearing this disposable KN95 face mask. Use it while you are repairing your car, taking on your gardening chores, or cleaning up your home. This face mask will also be an excellent protective accessory to wear while hiking, taking your dogs to the park, or painting your home.

48 Working Hours Process
Standard delivered 3-9 Business Days
For most order, we ship using UPS, FedEx and USPS Ground Service for domestic shipment within the 48 contiguous states.
Super Drive USA gladly accept returns on all NEW merchandise. If there is an error with your order, please contact our customer service for instruction. Provide the reason and a clear picture of the order for application, once your application is accepted, you can pack and ship back to us.
All parts must be return in the original package, cannot be damaged or installed and must be in original condition. All returned parts must be sent freight prepaid and are subject to a re-boxing fee. Once we receive the return order and check, we would return your money as soon as possible.
Noted: We are NOT RESPONSIBLE for products being returned to us that are damaged mid-shipment.