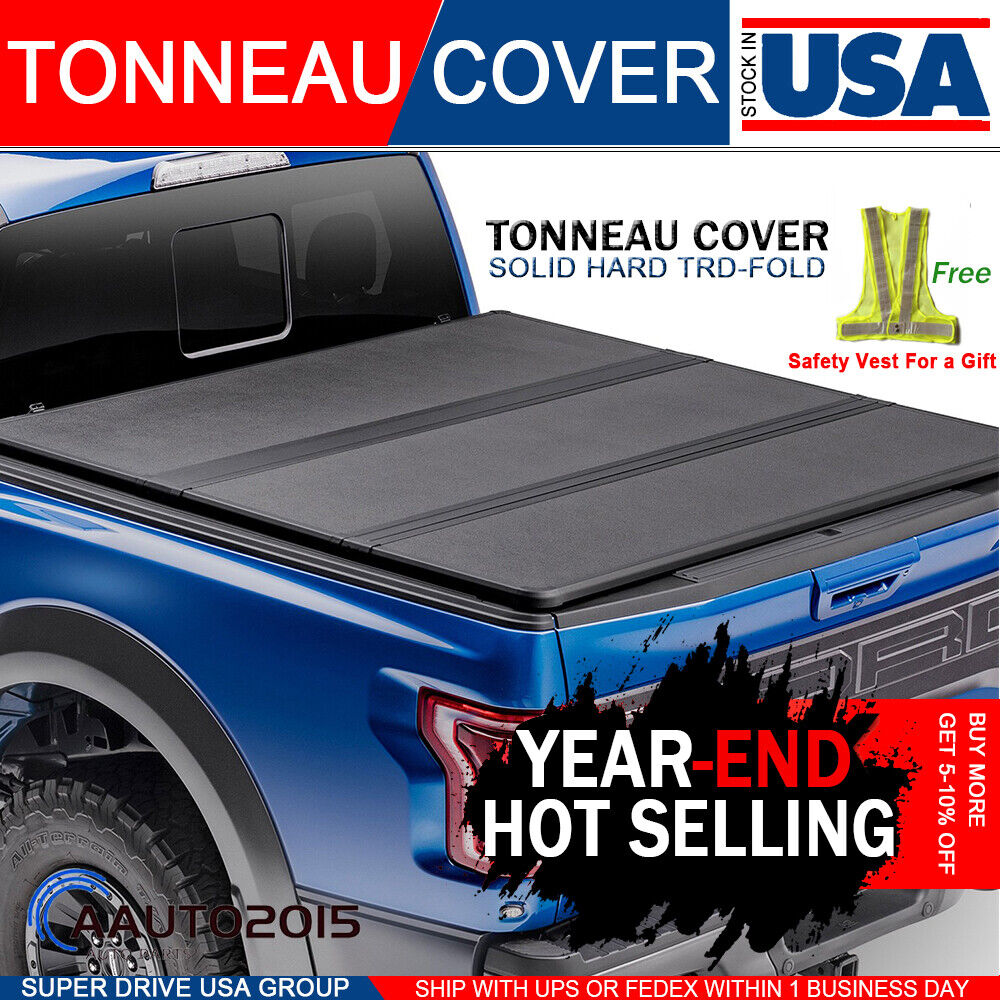 Protect your cargo without compromising your truck bed's usability with a SuperDriveUSA Tonneau Cover
Tough textured Aluminum construction is durable and lightweight
Quick and easy installation and operation with no tools or drilling required
Arrives completely assembled – no loose parts
Cab dust seal keeps rain, dirt, and grime away from your bed and cargo
Quick release clamps included – ride at highway speeds with your cover opened or closed
Provides ultimate security when combined with a locking tailgate
Backed by a Limited Lifetime Warranty
Nothing will protect your bed and cargo as well as a hard folding tonneau cover. The resistance to hard covers usually boils down to a few key points – they can be cumbersome, pricey, difficult to install (sometimes even requiring permanent damage and modification from drilling), and worst of all: they can make hauling big and tall loads a virtual impossibility. The good news is, all those problems are solved when you equip your truck with a SuperDriveUSA Tonneau Cover.
This tri-fold style cover is constructed from a tough and lightweight textured aluminum – the three folding and locking panels allow you to open up for larger loads in seconds. Each panel is separated by a solid foam core which, along with a double hinge seal, prevents all water and moisture from passing through – channeling it to the sides of your bed instead. There it's met with the impenetrable defense of a wide foam perimeter seal, as well as a cab dust seal – which work to keep all types of weather out of your bed, while preventing damage to your finish.


SuperDriveUSA Tonneau Cover comes right out of the box in one piece – no loose parts to deal with, no assembly required. The easy installation takes just a few minutes and does not require drilling or the use of any tools at all. Included quick release clamps allow you to drive at highway speeds with your cover in the open or closed position – and if you need to take it off altogether, thanks to the easy-to-use quick clamp system, uninstalling is as fast and simple as reinstalling. Backed by a Limited Lifetime Warranty.

Please visit our eBay store for a good deal & discount of SuperDriveUSA Tonneau Cover
Please visit our eBay store for a good deal & discount of SuperDriveUSA Tonneau Cover




By SuperDriveUSA & Alan Luusama Lee